I write for the bird blog 10,000 Birds and in late-May 2009 I was very fortunate to be invited by Swarovski Optik to visit Kazakhstan with a small number of other birding journalists. The trip had two purposes: to promote the work that the company does as a BirdLife Species Champion for the Sociable Lapwing (which breeds almost exclusively in Kazakhstan) and to field-test their new range of optics (how could anyone turn down an invitation like that!). The whole trip lasted just over a week, and was superbly organised. Below is a slightly edited post which focuses on the day we went looking for Sociable Lapwings…
Our flight from Frankfurt to Astana landed at about 11 pm local time on Monday, May 11. Having spent a mere twenty-four hours in Frankfurt after the flight from New York I still hadn't adjusted to the six-hour time difference: I was now a full twelve hours ahead of East Coast US time and somehow not at all sleepy. Who could feel sleepy though with so many great birds to see! We got through customs without a hitch, though the number of times the border agent looked from my passport to me and back again started to make me wonder if I had somehow managed to inadvertently trade passports and had handed her someone else's documents. Nonetheless, we were soon collecting our baggage and out into a warm May night in Astana.
The next day all members of the team were issued with the superb Swarovski telescopes and tripods that would be ours to use for the duration of the tour. The new magnesium telescopes were lightweight and sturdy, the new 25-50X wide angle eyepiece allowed for a larger field of view without diminishing the quality of said view, and I, for one, couldn't wait to get the equipment out in the field and look for birds!
Our main target for the trip was the Critically Endangered Sociable Lapwing Vanellus gregarius, and on our second day in Kazakhstan (which with a total surface area of 2,717,300 square kilometers (1,049,150 square miles), is the ninth-largest country in the world, slightly less than 4 times the size of the U.S. state of Texas!) we were on our way to see them.
Now, seeing Sociable Lapwing, a species thought to number roughly just 11,000 individuals, would be a treat any day but to see several pairs on their breeding grounds? Well, that is almost too much to ask for! Of course, because we were going to be on the species' nesting ground we would not closely approach (it would be bad enough to disturb non-endangered nesting birds) but the fact that Swarovski Optik sponsored our trip meant that we had more than enough high-powered and crystal-clear optics to enjoy watching the behaviour of the birds from a responsible distance.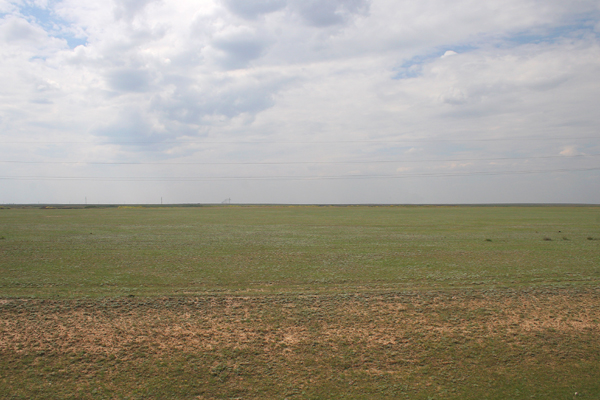 At a talk given to all participants the night before we'd learned that the lapwings prefer nesting in areas with plants of the genus Artemisia, (a genus including mugwort, sagebrush, and wormwood). Nests are sometimes found on the shores of salt lakes or on hills, but they're especially found in areas that have been well-grazed and often near villages because of the associated livestock. Actually it seems that they especially enjoy being around cattle, which helps lead to the number one cause of nest failure – trampling (the number two reason is predation).
Above is the area where the three pairs we observed were nesting which we were told was rather typical for the species. Below is one of the worst pictures ever of Sociable Lapwings.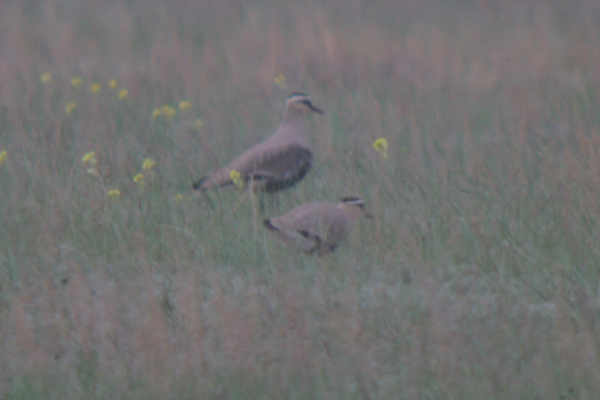 In my defence we were operating at long range and the heat coming off the ground in the strong sun made photography nearly impossible. It was amazing just to be in the presence of such rare birds but I wish I had gotten better photos! I did however, get a shot that shows the lapwing with its 'new best friend' since the original grazers of the steppe, animals like Saiga Antelope, were decimated.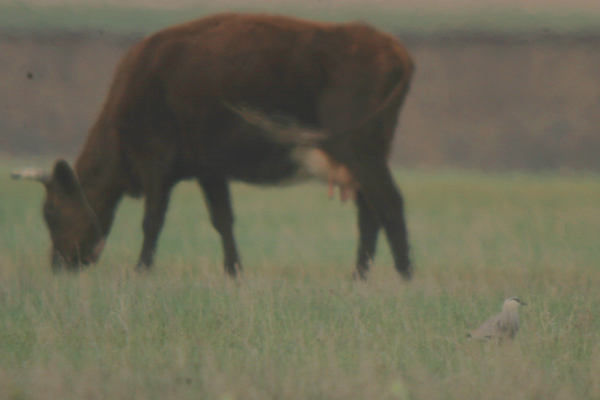 I know, I know, another horrible shot, but this time I also have a shot taken with my 50 mm lens without the scope just to illustrate the range we were working at here: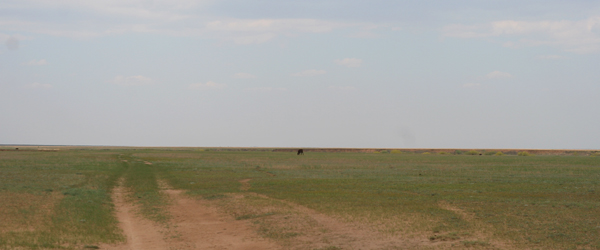 Bad picture aside it felt like an honor just to share a field with Sociable Lapwings.
It was also an honor to meet the folks who are working on the Sociable Lapwing monitoring and censusing this year, including Maxim Koshkin, the Coordinator of the Sociable Lapwing project for the Association for the Conservation of Biodiversity in Kazakhstan (ACBK) and who is now charged with coordinating the implementation of the international Species Action Plan (he is on the left in the picture below).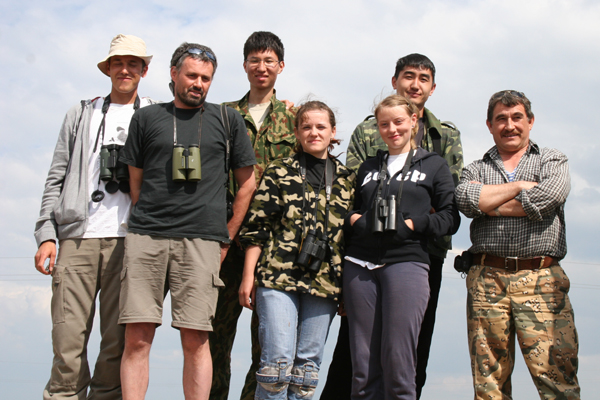 And who wouldn't want to work on the ACBK's Sociable Lapwing project? Vast landscapes, great birds – and you get to cruise around in the 'lapwing-mobile' which is camouflaged in order to sneak up on the lapwings for close-range monitoring.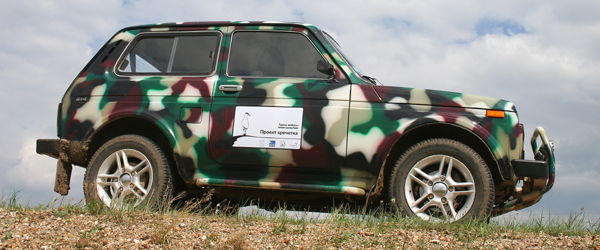 All joking aside I will always remember seeing the Sociable Lapwing on their breeding grounds and hope that they are there forever, so that my grandchildren and my grandchildren's grandchildren can enjoy their presence. Fortunately, they seem to be in good hands!
My thanks again go to Swarovski for organising such a memorable and exciting trip, and for helping ensure these beautiful birds have a future. If you'd like your family and their descendants to enjoy a world rich in biodiversity where Sociable Lapwings still grace the plains of Kazakhstan, click here, make a donation and do your bit to help BirdLife save these birds. Please.